IMC is a full-service website and digital marketing firm, taking your project from start to finish. Our services include website design and programming (including eCommerce and database operations), branding, content creation, print collateral materials, and hosting. We also provide maintenance packages, content management options, and training to help you keep your website current.
Why Choose IMC?
Your Goals are Our Goals
As a small, client-focused agency, we have the ability to be flexible – providing only the services you need and want without requiring expensive add-ons.  We work closely with you every step of the way, ensuring that you achieve your goals and enjoy exceptional results.
We have the talent, experience, skills and expertise to handle the complex details of website development and design, and the fast-paced challenges of digital marketing.  Choosing IMC will be one of the best ROI decisions you can make.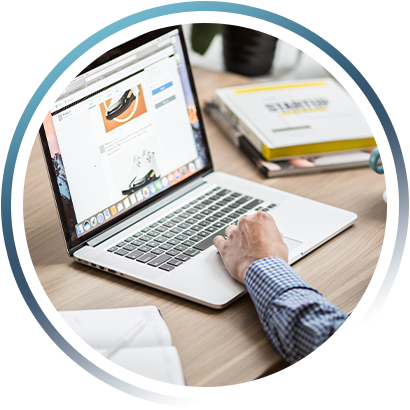 Website Design & Development
We are experts in how people use the web. Our technical knowledge and programming skills are cutting edge.  We work with you to customize a website that successfully achieves your goals.
Our graphic design team and marketing specialists have the tools and know-how to optimize the look and effectiveness of your website – especially as it relates to Customer Experience and eCommerce.
Digital Marketing
Just as Facebook is not your website, it should not be your primary marketing channel. We can create a digital marketing strategy that increases traffic, reaches new customers and improves conversion rates.
Web Hosting
We offer secure hosting services and affordable maintenance rates. Our packages are comprehensive and competitive, and include domain registration, email and much more.
Brand Identity
A strong and memorable brand identity is fundamental to success. We can help build your brand to create a clear and consistent look and message across all of your marketing platforms.
Print Design
We do it all. Launch your new marketing campaign or support your existing enterprise with custom designed business cards, rack cards, postcards, trade show banners, billboards, branded apparel, swag, and more. 
Content Creation
Effective content drives traffic and engages users. Our in-house writer can optimize your content by editing existing copy, creating all new content or just boosting your current homepage.
IMC offers impressive internet/web services and custom programming, delivering excellent value. Technical experts, creative minds, and super servicer. Make IMC your first call!
Deb Czech | Miles Ahead Communications
We have been with IMC for over two years. They redesigned our site and have hosted it over that time frame. We can't say enough good things about their services, prompt action and fair pricing. Very professional and still friendly, can't be beat for our money.
Dave Griffiths | Trails End Inn
Partnering with Interactive Media Consulting has been one of the best decisions our company has made. We have never had a web design partner that has brought so much long-term value. We have a professional website that has been maintained and expanded upon regularly. EXEControl Global Solutions refers all their clients to IMC for their web and branding needs.
Allan Robison | EXEControl
I wanted to send a quick note just to say thank you to you for everything IMC did to help us get our new website up and running.  IMC really understood our brand aesthetic, while helping us modernize our look. Nathan was quick to address any issues, was able to talk me through the entire process - he was so patient and helpful!
Tanya Tobias | Saratoga Arts
I will be eternally grateful to you for what you have done to create this beautiful, fun, interactive web site.  You are AMAZING!!!
Vicki Latham, P.A. -C | Toxin Clear
Thank you, IMC, for a wonderful art website that is easy to update, looks great, gets lots of positive comments and has encouraged sales by allowing my work to shine.

Your team is especially incredible (and patient!) to work with.  It's been a pleasant and rewarding experience working on this with them and, in the end, I have exactly what I want.  Thanks!
Barbara Downs | Artist
Your team continually impresses me with their professionalism, knowledge, accuracy and promptness. I am wowed by the service we get from IMC. This morning you made a global change to our site in 15 minutes. The IMC team is always there when I need them and amazingly the work often gets done the same day. I am so glad we chose Interactive Media Consulting!
Lisa Miller | Cost Control Associates